There's growing awareness about environmental concerns. People are constantly making more informed choices that protect our environment, whether its switching to a plant-based diet or installing solar panels in their homes. There's a growing consensus that individuals need to contribute to doing their part to preserve the environment.
Everyone knows that cars are a significant contributor to harming the environment due to pollution and gas emissions. Hence, the ever-growing shift towards electric vehicles. However, there's another environmentally impacting factor associated with cars, which is cleaning them.
Depending on the type of car wash, washing can consume 35 gallons to 120 gallons of water per vehicle. However, there's a way to reduce environmental impact by getting your car cleaned by a commercial fleet washing service.
Why Commercial Car Washes are Eco-Friendly?
There are several reasons why you should opt for a commercial car wash to help preserve the environment. These include:
Water Consumption
Most people use a garden hose to wash their cars at home. A garden hose can consume up to 10 gallons of water per minute, meaning you can use 100 gallons of water for a quick, ten-minute wash. On the other hand, commercial car washes use significantly less water, ranging from 15 gallons to 85 gallons per vehicle. The EPA reports that commercial washes consume 60 percent less water.
Organic Materials
Fleet washing services also use environmentally friendly materials. Most fleet wash professionals utilize organic, biodegradable soaps. These services also combine biodegradable materials with automatic shut-off hose systems to preserve water.
Equipment and Structure
Commercial car washes naturally have better equipment to preserve water than car owners cleaning their cars at home. Most automatic car wash machines are incredibly efficient at minimizing water wastage. These machines also use water more efficiently than a person cleaning their vehicle with a garden hose.
The law also requires commercial car washes to recycle their water. Most of the water used at these facilities tends to be recycled.
If you're cleaning your vehicle at home, you're most likely doing it in a garage or the driveway. There's no system at your house to collect the water and drain it. The water you use and the residues, metals, and sediments flow into the storm drain, harming the environment.
Commercial car washes have proper drainage systems designed to collect water, which they then recycle with their water treatment system.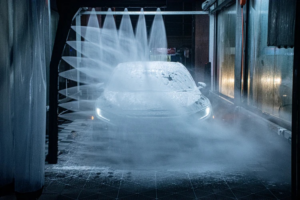 Protect the Environment by Getting Your Car Cleaned by a Commercial Cleaner
You can help preserve the environment by opting for commercial car cleaning. Commercial cleaning is affordable, and you can find a $1 car wash near you.
If you're seeking a mobile car wash in Beaumont, CA, The Mobile Turtle can help you. The Mobile Turtle is a family-based business that provides a full-service car wash and auto detailing on-site. They also offer other services like ceramic coating and paint correction.
Contact them today to get your car cleaned while doing your part to protect the environment.