The health and worth of your car depends on how well-maintained you keep it. Regular maintenance and servicing play a huge role in improving the driving experience and increasing the lifespan and value of the car.
Besides that, it also ensures the safety of the people in the car as regular servicing can identify potential car issues beforehand, so you don't have to worry about a sudden engine breakdown or any other inconvenience.
To ensure your peace of mind and optimal efficiency, here are some reasons to get your car serviced regularly.
Increase Lifespan
Regular car service improves functionality and increases the lifespan of the vehicle. Moreover, a fine-tuned engine keeps your car in good condition for a long time.
Improves Performance
A car is made of many tiny parts, however, if any one part stops functioning properly, it can cause the entire system to perform poorly. Therefore, a car owner must ensure that every part of the car is running smoothly.
This is where car servicing plays an important role. Regular car servicing makes sure whether each part of the car is working optimally or not. This improves the overall performance of the car.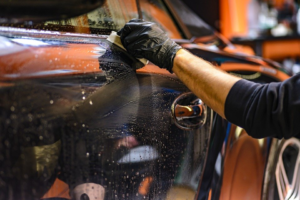 Increases the Safety of Car Components
Regular car servicing informs the owner about the performance of the car's cooling system, tires, suspension, and brakes so they know whether they're working smoothly or not. This makes sure that every component of the car is working at maximum efficiency.
Saves Repairs & Replacement Costs
Regular car servicing can help you avoid extensive repair or replacement costs because all the potential issues are dealt with right away, leaving no room for big problems. This not only saves car owners time but also saves them so much time.
Ensures Fuel Efficiency
Regular car servicing involves the change of oil, radiator fluid, coolants, and many other essential fluids that help improve fuel efficiency and offer better mileage.
If you're looking for professional auto detailing near you, connect with The Mobile Turtle. We offer a full-service car wash and mobile car detailing in Beaumont, CA. Besides that, we also offer commercial fleet washing and paint correction services to improve your car's appearance and efficiency. Contact us now!