Your car is an essential asset that needs the utmost love, care, and protection to increase its lifespan. You must have spent a considerable amount of money purchasing the car, and you must take good care of it by washing it regularly and doing preventative maintenance. Most importantly, you should be choosing a detailing partner that will treat your car as their own.
Many car owners go to inexperienced car detailing services that provide substandard services. If you want to ensure that your car remains in top shape, opt for a professional detailing service that will go above and beyond to ensure that your car gets the love it deserves! If you're looking for car detailing in Beaumont, CA, then you can't look past The Mobile Turtle. Let's look at why The Mobile Turtle should be your preferred car detailing partner.
Services
One thing that makes us stand out from the rest is our services. You can rely on us as your one-stop solution for all your car care needs. We provide paint correction and protection services. Your car will undergo a thorough wash process using our state-of-the-art and cutting-edge foam bath method. Moreover, we carry out an extensive decontamination process and use the appropriate method to fix your paint.
We also offer a high-quality ceramic coating that will give your car the necessary protection it needs. It will prevent your car from looking old and dusty, and the coat ensures that your vehicle is protected from harmful UV rays. We use a comprehensive process to apply ceramic coating to your car and offer a free maintenance wash and a ceramic boost once a month throughout the year.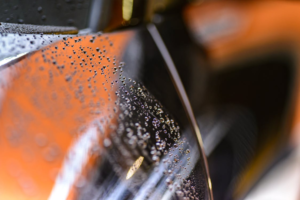 We also offer comprehensive interior care services that will ensure that your car feels fresh and smells amazing every time you hit the road. Our leather care package will make your car look and smell like new. In addition, we will do a deep vacuum and clean out everything inside the car!
Prices
Another thing that makes us stand out from the rest is our affordable packages. We don't want you to feel that your car detailing and washing needs burden your pocket. We understand how important it is to have a clean car. Therefore, our services are pretty affordable and pocket-friendly compared to others who may charge significant money and not provide the level of care required.
We also offer a $1 car wash service for anyone willing to hire us for the first time. We believe in building long-lasting relationships with our customers.
Commitment to Quality
You won't find such committed professionals anywhere else in the state. We go the extra mile and come to you to wash your vehicle. If you don't have time to clean your car or take it to the car wash, don't worry! We will come to your home and give your car the love it deserves. Our unwavering commitment to providing quality services has enabled us to become one of the best auto detailing services in Beaumont, CA.
You can't go wrong by choosing The Mobile Turtle for all your car care needs. We are one of the best mobile car washing services in the state. We will take care of all your car maintenance needs. Our family-based business is reliable and trustworthy and our services include fleet washing, pain correction, $1 car wash, ceramic coating, and more.
Contact us today to get a quote.